Getting Married in Seychelles
Getting Married In Seychelles
Seychelles is ranked among the top wedding and honeymoon destination in the world and its natural and romantic scenery provide a fabulous setting for a quiet romantic wedding and honeymoon. As well as its incredible natural beauty, Seychelles has some reputed and luxurious hotels which offer excellent service and facilities where we can host a wedding of your dream.
In order to get married in the Seychelles you must fulfill the legal requirements stated by law.
Which documents do we need to provide?
At least eight weeks before your departure to Seychelles, our wedding coordinator should receive copies of all necessary documents (can be sent by email / post).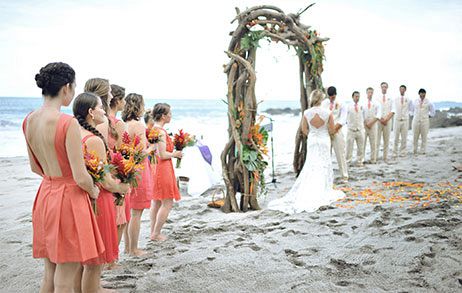 The documents to be provided include:
2 Copies of passports
2 Copies of birth certificates
2 passport photos each
Decree absolute (if divorced)
Deed Poll (if name has changed)
Death Certificate and previous marriage certificate if widowed
Non English documentation must be translated into English or French and duly stamped
Documentsmust all be either in the English or French language.
In the case of other nationalities, a notarized translation must be presented with the original copies. The documents may be scanned and email to us with the originals being presented upon arrival in Seychelles.
For French citizens: Couples are required to make attestations at the French Embassy before their marriage. In exceptional circumstances, the consular official may waive this stipulation and accept formalities being made after the wedding.
A copy of each party's Identification Card, an official family record book (livret de famille d'enfants communs qui pourraient être légitimés par le marriage – Article 171-1 du code civil), and a passport photograph each for registration purposes at the Embassy in Victoria.
If either party is not of French nationality, a notarized copy of all relevant documents.
Translated in French should be submitted. Note: The French Embassy in Seychelles is only able to register marriages when at least one party is a French national – in the event that both parties are of foreign nationality, liaisons for registration should be addressed to their own Embassy or Consulate.
All relevant documents should be forwarded to the French Embassy two months prior to the wedding date as publication of forth coming weddings must be now publish in France.
Registration process. Note: Fax copies are not accepted. An extra 20 Euros applies for the Swiss Consulate to process the wedding documents.
For Italian citizens: A copy of the certification of registered domicile, the couple's Town Registration in Italy
Photocopy of parental consent in the form of an Affidavit if either person is less than 18 years of age
---
Essential to know;
By Law Couples must stay 3 nights before weddings date
Clients have to confirm their wedding 30 days minimum before their wedding date
Minimum Age of either or both parties 18 years, if either party is less than 18 years a parent or legal guardian must accompany applicants.
Weddings are generally held from Mondays to Fridays. Weddings on Saturdays, Sundays and Public Holidays incur a supplementary charge, and may be booked on request-basis, for confirmation at the discretion of the registrar.
Weddings are generally held between 14h00 and 16h00 – other timings are possible on request basis
Cancellation Policy
Once a wedding is confirmed there cannot refund the full amount due to cancellation because all the cost would have already been committed to the various agents.
Planning before your arrival in Seychelles
The couple should also plan to have three days in Seychelles before their wedding day (must be working days – not public holidays/Saturday/Sunday) so they could finalize all the local legal procedure for having the required papers for their wedding in Seychelles.
In order to finalize the wedding paperwork, the future couple will have to go to four different offices that are situated in Victoria. All along, the couple will be accompanied by one of our driver and a wedding coordinator.
Planning before your arrival in Seychelles
We can plan the perfect wedding for you according your desires and wishes we offer a variety of wedding packages from you to choose from, as well as the option to tailor made a dream wedding as per our client's requests. You can decide in advance on the type of location and venue you would prefer and we would be happy to provide you with all the necessary information, as well as add our personal input and advice for creating your perfect wedding for you to cherish forever.
Send all the copies of the relevant documents required for the legal procedure at least 8 weeks in advance ensuring that you have the original birth certificates and any additional legal documents and papers which are required.
Ensure that your passport is valid for more than six months from your expected departure day from Seychelles. This should be valid for both yourself and your other half. If this is not the case, then you will need to apply for a new passport, making sure you will receive the new passport enough time in advance.
In case you will be travelling to other destinations which need appropriate vaccinations or malaria tablets, please ensure that both of you are up to date with all of the present requirements. For your information, no vaccinations or malaria tablets are required for visiting Seychelles.
LAST MINUTES WEDDING PLANNING BEFORE DEPARTURE
Travel Documents
Passports for each of you
Originals of compulsory documents for your wedding ceremony
Bride and Bridegroom's wedding outfits
If applicable – the outfits for the wedding party
For the future bride – according to the tradition, something old, something new, something borrowed and not to forget something blue!
If necessary – a copy of the speeches, wedding vows
Wedding Rings!
On your arrival in Seychelles
When you arrive in Seychelles, you will take the day to settle in to your preferred hotel and enjoy pure beauty.
Soon after our wedding coordinator will contact you to finalize the last remaining details, making sure all is as per your expectation for the big day.
Together, you will go through the planned itinerary of your special wedding day, help you choose the type of flowers and check the last minute details.